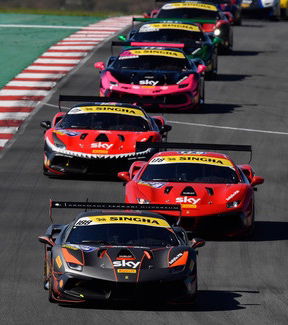 We were able to get some fabulous prizes for the event, and every entrant went away with something of real value. One of our members very kindly donated some trophies too so there were a good number of these given out plus a further 12 medals. The fabulous trophy plus a bottle of fiz went to the overall winner Dave Stevenson and we hope that we will get it back for next year as its only only on loan!
We would like to say a huge thank you to all those companies that offered prizes, money or time, all of which helped to make the day that much better for every entrant.
We received various items including gift vouchers and prizes from
Richard Mack,
Won-O-Won, Missile, K-Slotcar, Betta Bodies, Knutz Lubricants, Model World, CatVacs, Sprays by Mac, Pete Wedlake
and
Mike Speight
(two of our club members who dabble with 3D printing) and not forgetting
Farmview Butchers
of Rochester who supplied the sausages and bacon!
The Ferrari Passenger ride in a 488 Evo was won on the day in the raffle, but the winner could not stomach the thought of being driven at race speed on a circuit, so has given it back ! This is a passenger ride in a Ferrari 488 at either Brands or Silverstone (subject to weather etc etc) and will give the winner 3 laps at race speed in the car. You have to be physically fit and be able to get into and out of the car with assistance. You will be given race overalls and a helmet with intercom to the driver. The car is full race prepared and is not a road car, so its slicks, carbon brakes etc and we are sure you will never have travelled at these speeds before! This is for one person although you can bring a friend/wife etc along for the day.