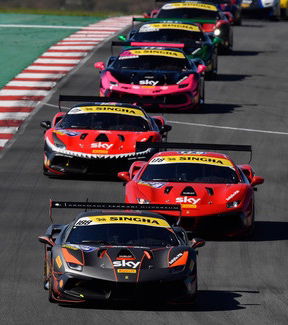 We have been able to get some fabulous prizes for the event, and fully expect every entrant to go away with something of real value. One of our members has very kindly donated some trophies too. We have a fabulous trophy for the overall winner and we hope to have some kind of award for all those who finish high in each final etc.
We can now reveal two fabulous prizes that have been donated by the Ferrari Owners Club of Kent. The first one we will keep secret for now and you will understand why later, but the second one is a passenger ride experience in a Ferrari 488 at a race circuit, and although we were going to offer this as a team prize, the logistics of working this out proved to be unworkable, so instead we have decided to raffle these two places instead.
Tickets are available now via the club and these will also be available on the day up until the close of racing with the winning tickets drawn immediately after the final. We will pull two tickets and each one will be for a passenger ride in the Ferrari 488.
There will be two winners, and each will be able to bring along their wife/girlfriend/husband/friend. Each winner will get to be a passenger in a full race prepared Ferrari 488 Challenge at race speed at either Brands Hatch or Silverstone (subject of course to weather etc), and in both cases this should be on the full circuit. You will of course be given race overalls and helmet to wear (with intercom to the driver) and will experience what its like to be driven on a race circuit at race speeds in a car capable of over 200mph and with almost 700 hp behind you! If you have never experienced being driven at speed on a circuit in a race car before, then you are in for a very exciting day.
There are many other prizes which we will also be handing out on the day for fastest time etc, and it is our intention to ensure that these are handed out to as many people as possible. We fully expect everyone to go home with something!